Course Description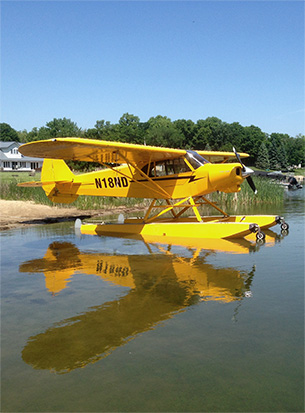 The John D. Odegard School of Aerospace Sciences is a world-renowned center for aerospace learning and nationally-acclaimed for our achievements in aviation education. We have taught students how to take off and land on water for the past 20 years. UND Aerospace Foundation can provide private and commercial single-engine seaplane ratings. Our seaplane training offers flexible scheduling, a comprehensive training syllabus, and some of the most scenic lakes Minnesota has to offer. Most of our students finish their training in between 7 and 11 hours. Training is available at our UND Aerospace - Crookston, MN Flight Training Center.
Prerequisites
Students enrolling in our seaplane flight course must have the following before enrolling:
Valid FAA Medical Certificate
FAA Private Pilot Certificate
Current U.S. Passport or Government-Issued ID
2018 Projected Individual Training Costs
The following are the projected costs associated with the various training for the 2017-2018 school year based on anticipated rates. Course costs are based on the average number of hours it takes a student to complete the course, and may vary from student to student according to their capability and motivation. Financial aid may be available to assist with these costs, but applying for aid must be done in advance.
Course
Flight Costs*

Single-Engine Sea Rating

Instructor Time (18 hrs)
Top Cub (10 hrs)

$2,808
* DPE Examiner Fee extra