Biofuels
This research is particularly focused on potential biofuel applications for the cultivated native grass Panicum virgatum (switchgrass). Examples of recent projects include:
Remote Sensing of Switchgrass Biochemistry Using Spectral Reflectance Indices: This project sought to estimate the concentration of cellulose and water in switchgrass using spectral reflectance indices. Spectral data was collected at the Carrington NDSU Research Extension Service Facility. The cellulose absorption index (CAI), which captures the depth of an absorption feature between 2000 and 2200nm wavelengths showed good potential for measuring cellulose content of sunburst switchgrass variety in Carrington.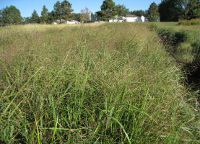 Switchgrass plots at Carrington, ND

Relationship between measured cellulose content and the CAI for 4 varieties of switchgrass over four years
Mapping Agro-Climatic and Land Suitability for Switchgrass Production in North Dakota: Land suitability was determined as a function of agro-climatic factors governing switchgrass establishment, potential biomass yield, and long-term land use practice in North Dakota. Thresholds were defined for agroclimatic factors limiting switchgrass establishment and productivity. The ALMANAC crop model was used to simulate the potential yield of switchgrass at different locations, then simulated yields were interpolate at the state level. A multi-criteria analyses approach (MCAS-S) was used to produce a switchgrass suitability map for North Dakota.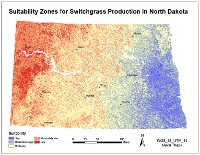 Overall suitability map for switchgrass in North Dakota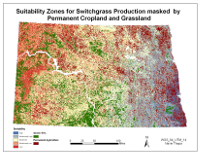 Suitability map for switchgrass production in North Dakota, excluding permanent cropland and grassland