NDX-1 Mars Prototype Suit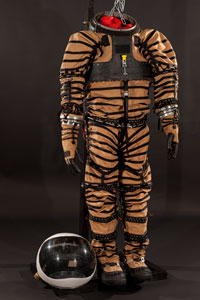 Extravehicular activity (EVA) is one of the most critical areas for planetary exploration. A special kind of suit is required to protect the astronauts on Mars due to gravity conditions, dust contamination, and specific thermal scenarios. The Department of Space Studies at UND has been involved in researching the area of planetary space suit systems since 2005. The NDX-1 is a Mars suit demonstrator which is tested on Earth under simulated Martian conditions.
The North Dakota Experimental-1 (NDX-1) Mars Prototype Suit was the first planetary space suit built at the university level. It was designed by mobility expert Gary L. Harris and built in cooperation with Dr. Pablo de León and space studies graduate student assistants. The prototype has been successfully tested by conducting surface operations jointly with NASA in a number of extreme environments, including the North Dakota Badlands, the Mars Desert Research Station (MDRS) in Utah, the Marambio Base in Antarctica, and the Pilbara Region of Australia.
All of the experience gathered with the NDX-1 has been fully utilized as background research for the construction of a second suit, the Advanced Lunar Prototype Suit NDX-2.