Past Projects
Glove-Testing System for Reduced Atmospheric Pressure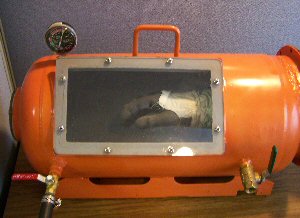 Principal Investigator: Gary L. Harris
Co-Investigator: Pablo de León
An EVA testing glove box allows the testing of high-mobility space gloves. The reduced mobility of space suit gloves under pressurization is one of the main problems to be resolved in high-mobility suits. Testing those space gloves requires a special chamber where atmospheric pressure can be reduced to near-space values in order to test different designs. This testing facility will be the only one available outside NASA and Hamilton Sundstrand (the manufacturers of the Space Shuttle Suit).
Liquid Cooling Ventilation Garment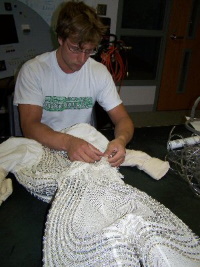 Principal Investigator: Pablo de León
Student Assistants: John Polansky, Lynn van Broock
Liquid Cooling Ventilation Garments (LCVGs) have been used since the Apollo lunar landings and are used in both the Space Shuttle EMU and the Russian Orlan. However, the technology needs to be improved and refined for the requirements of planetary exploration. Reusability, reparability, comfort, and operation in a contaminated environment are some of the unknowns that must be studied. The UND Human Spaceflight Laboratory is developing a working prototype LCVG to test various concepts and approaches to this critical technology for EVA operations on the Moon or Mars.
Rotational Shoulder Joint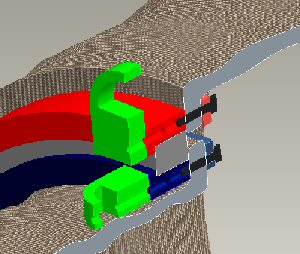 Principal Investigator: Gary L. Harris
The development of a new ball-bearing joint and mobility system for shoulder joints is required to support NASA's next-generation of space suits. A new joint, specially designed to provide safety in a dusty environment, will incorporate space-based maintenance and protection for contaminants.