Citation Research Aircraft
The Citation Research Aircraft is a jet manufactured by Cessna and modified by the University of North Dakota for conducting atmospheric research. The basic instrument package includes measurements of aircraft speed and position, along with atmospheric state parameters, such as temperature, relative humidity, and winds. However, research projects typically involve deployment of very advanced instruments to conduct specific scientific measurements such as hydrometeor concentration, size, and mass. Most projects are in the field of cloud physics; however, the platform has done projects to study electric fields, atmospheric chemistry, and weather modification. In addition, the aircraft conducts flight testing of new instruments designed for commercial aircraft. The detailed measurements provided by the aircraft's instruments help to understand remote sensing observations made by surface and satellite platforms. Atmospheric observations made by the aircraft provide new insights into many important processes, such as precipitation formation and effects of air pollution.
Specifications
Operating Ceiling: 43,000 ft (13.1 km)
Climb Rate: 3300 ft/min (16.8 m/s)
On Station Time: Up to 4 hours
Cruise Speed: 340 knots (175 m/s)
Sampling Speed: 160 knots ( 82.3 m/s)
Low fuel consumption at all altitudes
Certified for flight into known icing
Long wingspan allows for takeoff from shorter airstrips
Structural Modifications:

Pylons beneath wing tips
Hard points on fuselage
Nose boom
Cabin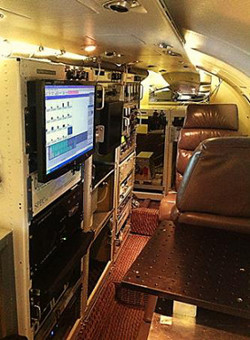 The minimum crew is a pilot, co-pilot, and flight engineer. Two additional seats are typically available for a flight scientist and an observer. The cabin size is approximately 5 feet in diameter and more than 16 feet in length.
The data system always records basic parameters such as position, altitude, and speed. The meteorological package includes measurements of temperature, dew point temperature, pressure, and wind. The three-dimensional wind field algorithms use measurements of acceleration, pitch, roll, and yaw combined with angle of attack, angle of sideslip, and airspeed measurements. An Applanix POS-AV strap-down gyro system, with integrated global positioning system (GPS), provides the ground relative parameters, while the gust probe provides the air relative parameters. Software calculates the turbulence intensity from differential pressure transducer measurements.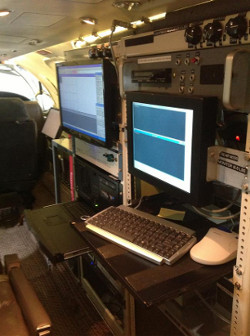 The cabin can accommodate the installation of instruments provided by outside investigators. Several 19-inch racks are available to accommodate standard instruments with space available for additional project instruments. A KVM switch and time sync are available for guest data systems.