Labs
Hangar Lab
When in Grand Forks, the Citation research aircraft is kept in Hangar 120 of the UND Aerospace airport complex at the Grand Forks international airport (GFK). Wireless internet access and GPS signals are available inside the heated hangar. Work benches are available in the hangar lab for testing and troubleshooting instruments. The hangar lab also has office space for visiting scientists. The hangar is fully equipped to enable guest instruments to be unpacked, tested, and installed in a timely manner.
Calibration Lab
The Clifford Hall 423 Calibration Lab has three full-height workbenches and four half-height wall benches. All benches have access to A/C power and wired internet. Pumps and compressors are available to supply vacuum and compress air. A fume hood vents air outside the lab. The lab has holders for three full-size gas cylinders. Computers, along with an M200 Science Engineering Associates Data Acquisition System are available to collect data. Labview data acquisition software is available on lab desktop computer. Pressure, volumetric flow, temperature, and dew point temperature standards are available. The diagram below illustrates the calibration of cloud condensation nuclei instruments.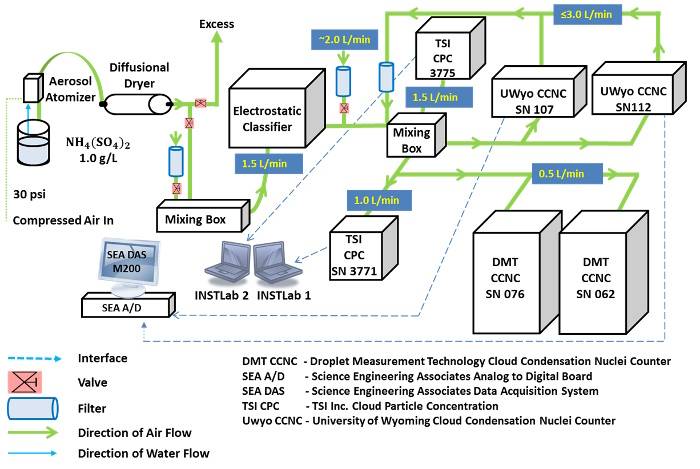 Penthouse Lab
The Penthouse Lab on the top of Clifford Hall supports atmospheric aerosol sampling and the NorthPol C-band radar. The NorthPol radar is used to direct the Citation Research Aircraft to locations of sampling interest.