History
In the early 1980s, John D. Odegard, the Dean of the College of Aerospace Sciences, invited Buzz Aldrin, the second man to walk on the Moon, to come to UND to help organize a space education program within the college. Aldrin's contributions included recommending the appointment of Dr. David Webb, a member of the 1985-1986 Presidential Commission on Space, to design the space studies program and to serve as the first chair of the department. In 1986, Dr. David Webb initiated the founding of the Department of Space Studies as an integral part of the UND College of Aerospace Sciences. The first batch of M.S. students were admitted in fall 1987. The original faculty included Dr. Richard Parker (life sciences), James Vedda (space policy and history, civil, commercial, and national security), Joanne Gabrynowicz (space law and policy), and Dr. Grady Blount (remote sensing and planetary geology). These original faculty members taught classes on campus and at the Grand Forks and Minot Air Force Bases.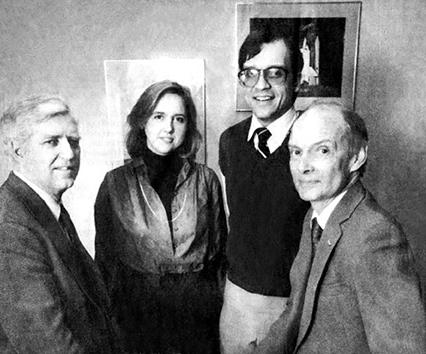 In 1990, Dr. Charles A. Wood, then of the NASA Johnson Space Center, became chair of the department and brought several educational innovations to fruition, including increased use of the Internet. By 1996, the Department of Space Studies began offering classes through distance learning via www.space.edu. Distance learning has been extremely successful and in 1998 the Department of Space Studies became the largest Master's Degree program at the University of North Dakota.
Today, the Department of Space Studies has approximately 25 M.S. students on campus and more than 100 students in the distance program. Nearly 800 Master of Science Degrees in Space Studies have been awarded since the program's inception in 1987. Space studies graduates have careers in a variety of different space-related disciplines, including government, business, science, law, medicine, education, military, and public relations.
The Department of Space Studies is also headquarters to two state-wide NASA funded programs: the ND NASA EPSCoR, which is aimed at enhancing NASA-relevant research capabilities in the state, and the North Dakota Space Grant Consortium, which promotes STEM education at the collegiate level in North Dakota through "hands-on" student projects, and provides scholarships and fellowships for students, summer internships at NASA centers, and seed research.
In fall 2012, the 25th anniversary year of the department, the Ph.D. program in Aerospace Sciences was established in collaboration with the Department of Aviation.