History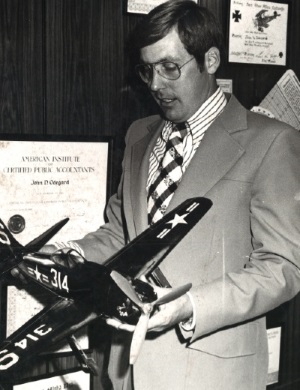 A Tradition of Excellence
It all began in 1968 with two donated planes, twelve students, and the formation of UND's Department of Aviation. John Odegard was the department's founding chairman. Odegard had a lifelong fascination with aviation, even working as a crop duster to help pay tuition as a college student.
In 1982, the Center for Aerospace Sciences was established to handle the tremendous growth of UND's atmospheric research and aviation education programs. The John D. Odegard School of Aerospace Sciences is now the second-largest of UND's degree-granting colleges, and operates one of the largest fleets of civilian flight training in North America.
In 1997, as part of our 30th Anniversary celebration, the name John D. Odegard School Of Aerospace Sciences was adopted. The new name serves to centralize our ever-expanding aerospace presence, both educational and commercial. Our anniversary motto, "A Tradition Of Excellence," exemplifies the dedication that will guide us through the next 25 years and beyond.
John Odegard, UND Aerospace Founder
John D. Odegard was the founder and dean of UND Aerospace at the University of North Dakota. A department which began with only two donated aircraft and two faculty, the John D. Odegard School of Aerospace Sciences has evolved into one of the nation's most widely-respected aerospace education programs under his leadership. During his career as an aerospace educator, Odegard's reputation for leadership earned him industry respect and many honors.
In 1970, he was elected president of the University Aviation Association (UAA), a national organization dedicated to the recognition and standardization of aviation curriculum, and in 1982, chaired its ground-breaking Airway Science Curriculum Task Force. He was a prominent figure on many state, civic, and gubernatorial committees related to air transportation, education, and economic development, such as the North Dakota Aeronautics Committee, on which he served for twelve years, including four years as chairman.
Among his many awards was the prestigious Frank G. Brewer Trophy presented in November 1988 by the National Aeronautics Association for "his distinguished and inspiring leadership in creating new educational opportunities." A year earlier, the editors of Aviation Week and Space Technology recognized his contributions to aerospace in their 1987 Laurels nominations for "building the Center for Aerospace Sciences into a major force in aviation and space education."
In 1989, Odegard received the FAA Administrator's Regional "Championship" award for Excellence in Aviation Education, and was honored as the North Dakota "Business Innovator of the Year." In 1994, Odegard was presented the National Air Transportation Association's (NATA) Excellence in Pilot Training Award.
Odegard propelled UND Aerospace to international prominence by pioneering many precedent-setting programs, including the Aerospace curriculum, the Aerospace Network distance education system, and the SPECTRUM® ab initio pilot training program.
A Minot, North Dakota native, Odegard earned a B.B.A. in 1966 and an M.A. in Accounting in 1967 from the University of North Dakota. While an undergraduate student working summers as a crop sprayer, he revitalized the school's flying club. His master's thesis, "Feasibility and Cost Analysis of Institutional Private Aircraft Transportation," earned him approval to establish an air transportation service for UND officials.
Odegard logged more than 10,000 flight hours and held an airline transport certificate for Learjet, Cessna Citation, Beechjet, and single- and multi-engine aircraft. He was a certified flight instructor for airplanes, instrument, multi-engine, and gliders. He was also an FAA pilot examiner for private, commercial, instrument, multi-engine, flight instructor, ATP, glider, and seaplane certificates and ratings, and for Cessna Citation type ratings.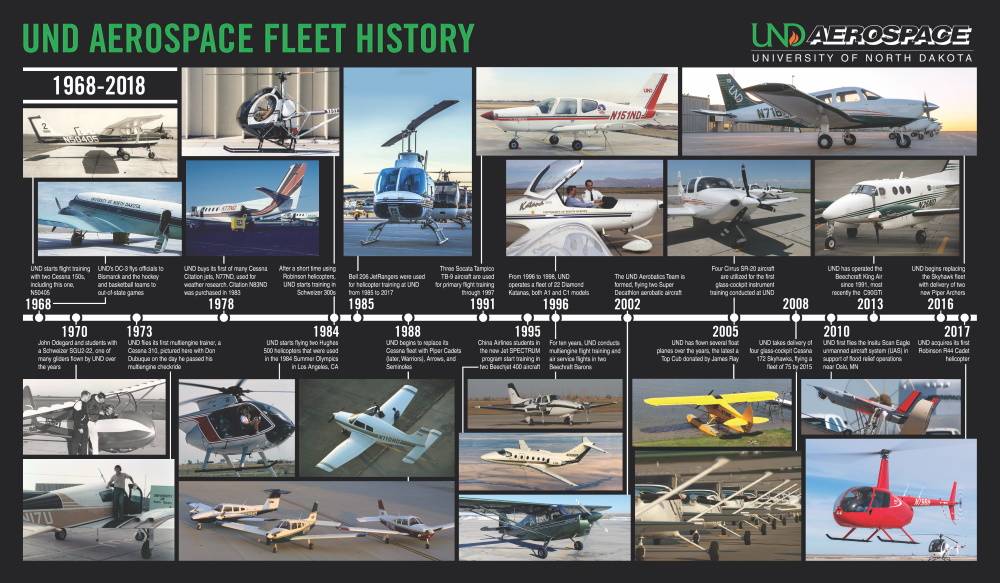 Fleet History Timeline
1968: UND starts flight training with two Cessna 150s
1968: UND's DC-3 flies officials to Bismarck and the hockey and basketball teams to out-of-state games
1970: John Odegard and students fly a Schweizer SGU2-22, one of many gliders flown by UND over the years
1973: UND flies its first multiengine trainer, a Cessna 310
1978: UND buys its first of many Cessna Citation jets, N77ND, used for weather research. Citation N83ND was purchased in 1983
1984: After a short time using Robinson helicopters, UND starts training in Schweizer 300s
1984: UND starts flying two Hughes 500 helicopters that were used in the 1984 Summer Olympics in Los Angeles, CA
1985: Bell 206 JetRangers were used for helicopter training at UND from 1985 to 2017
1988: UND begins to replace its Cessna fleet with Piper Cadets (later, Warriors), Arrows, and Seminoles
1991: Three Socata Tampico TB-9 aircraft are used for primary flight training through 1997
1995: China Airlines students in the new Jet SPECTRUM program start training in two Beechjet 400 aircraft
1996: From 1996 to 1998, UND operates a fleet of 22 Diamond Katanas, both A1 and C1 models
1996: For ten years, UND conducts multiengine flight training and air service flights in two Beechcraft Barons
2002: The UND Aerobatics Team is formed, flying two Super Decathlon aerobatic aircraft
2005: Four Cirrus SR-20 aircraft are utilized for the first glass-cockpit instrument training conducted at UND
2005: UND has flown several float planes over the years, the latest a Top Cub donated by James Ray
2008: UND takes delivery of four glass-cockpit Cessna 172 Skyhawks, flying a fleet of 75 by 2015
2010: UND first flies the Insitu Scan Eagle unmanned aircraft system (UAS) in support of flood relief operations near Oslo, MN
2013: UND has operated the Beechcraft King Air since 1991, most recently the C90GTi
2016: UND begins replacing the Skyhawk fleet with delivery of two new Piper Archers
2017: UND acquires its first Robinson R44 Cadet helicopter