Message From the Dean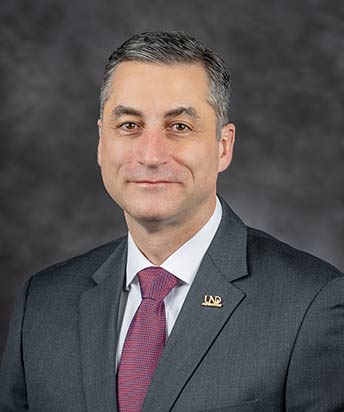 Welcome to UND's world-renowned John D. Odegard School of Aerospace Sciences, where for more than 52 years we have provided the highest quality aerospace education possible at a reasonable cost to our students!
The Odegard School's focus is and has always been on the success of our students. Our faculty and staff prepare our students to be leaders in one of four academic disciplines: Atmospheric Sciences, Aviation, Earth Systems Science & Policy, and Space Studies.
Atmospheric Sciences offers an undergraduate major and minor as well as a Master's degree and a Ph.D. in which students learn about and conduct hands-on innovative research tackling the challenges of understanding and predicting our atmosphere and weather.
Our undergraduate Aviation students conduct flight training at the Grand Forks International Airport in our fleet of over 100 airplanes and helicopters while others learn to manage airports and airspace utilizing state-of-the-art Air Traffic Control Simulators or operate our growing fleet of unmanned aircraft systems. We also offer a Master's degree in Aviation and a PhD in Aerospace Sciences.
Students interested in Earth Systems Science & Policy can minor in sustainability studies or work toward a Master's degree or Ph.D. leading the way in creating a sustainable stewardship of our planet by seeking balance between environment, society, and economy.
The Space Studies program offers an undergraduate minor, a Master's degree, and Ph.D. while conducting research in our simulated Mars habitat, designing and making new space suits, astronomy, or other out-of-this-world topics.
While most of the programs are conducted in-person, we continue to expand our online courses and programs providing options for those who attend remotely.
Finally, we thrive on our reputation as an innovative and an entrepreneurial college - always striving to serve societal needs in the best way possible by graduating outstanding students in all four academic disciplines. So welcome to the John D. Odegard School of Aerospace Sciences. We sincerely hope you find what you are looking for!
Robert J. Kraus, Ph.D., PfMP
Dean