Physiology Training
For over 30 years, UND Aerospace has conducted highly-specialized, research-based physiology courses for over 140 corporate and commercial organizations.
As an aviator, your refined decision-making and problem-solving abilities are crucial during times of extreme stress. It is one thing to read about hypoxia, spatial disorientation, visual illusions, and supplemental oxygen, but it is another thing entirely to experience it firsthand. Just like practicing V1 cuts and other mechanical emergencies, you may have only moments to respond correctly when faced with a physiological problem. At UND Aerospace, our aerospace physiology instructors have the experience and knowledge to thoroughly prepare you for such situations, enabling you to promptly recognize a problem and act quickly and effectively to resolve it.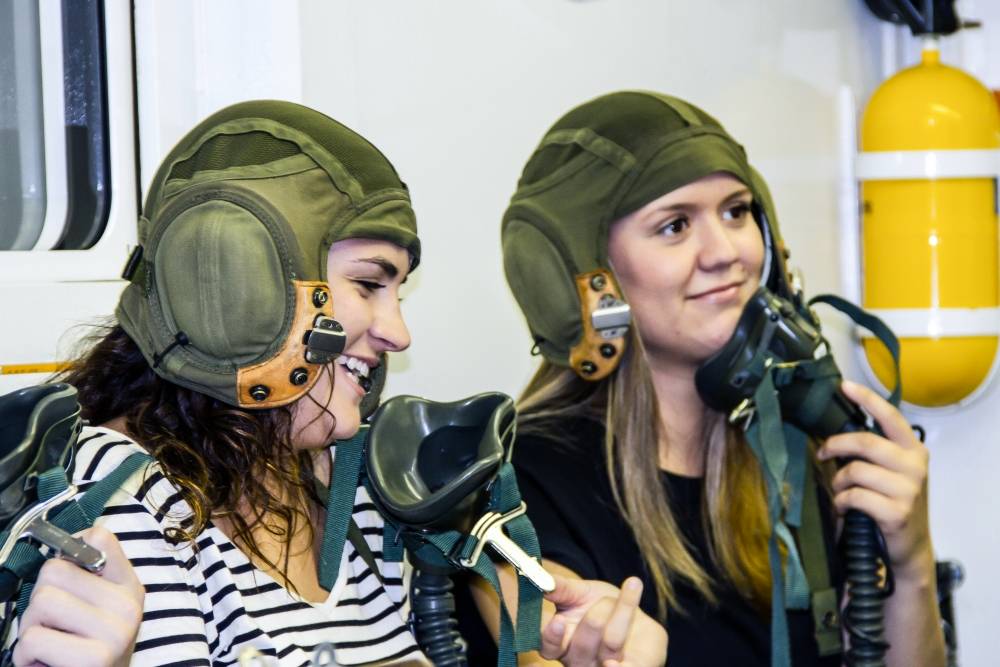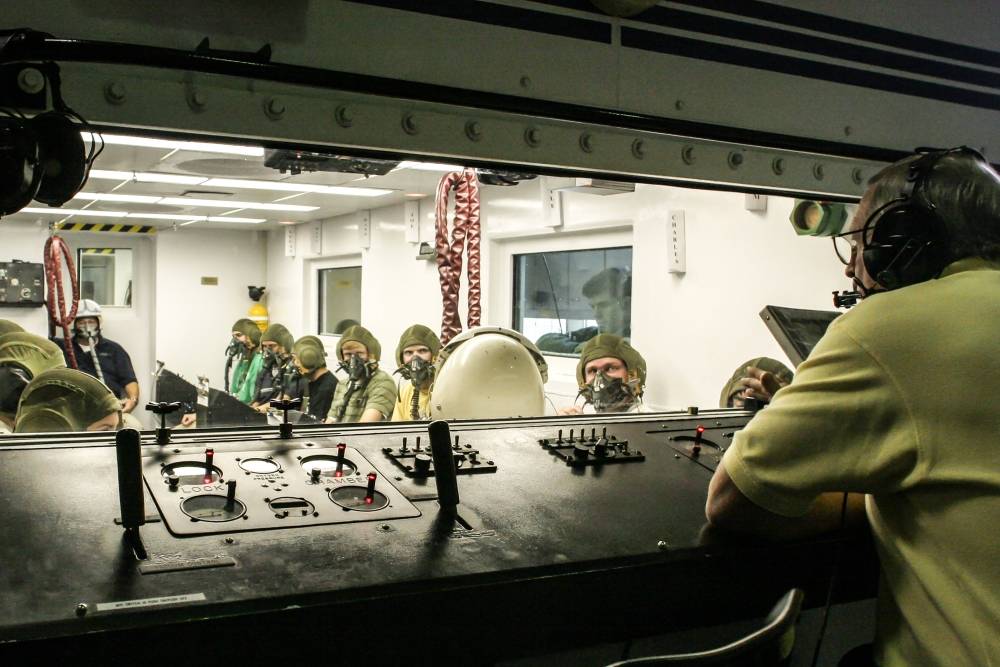 What sets UND's Aerospace Physiology Department apart?
Physiology training at UND Aerospace is recognized as some of the best of its kind in the world. Our dedicated team of highly experienced aerospace physiologists utilize a military-grade altitude chamber and state-of-the-art spatial disorientation, vision, and flight-deck smoke training devices. In addition to UND students and aviation students from other colleges, UND's Aerospace Physiology Department has been providing flight physiology, altitude chamber, and spatial disorientation training to professional aviators for over 30 years. Over 150 industry-leading companies have sent their flight crews to UND Aerospace for flight physiology training including:
Mayo Clinic Flight
Garmin
Philip Morris International
Abbott
Cargill
DEA
Grainger
Merck
Simplot
Raytheon
Dow
Customs and Border Protection
years providing internationally-recognized flight physiology training
collegiate, corporate, and commercial pilots trained
altitude chamber flights performed
combined years of instructor experience
Facilities
Altitude Chamber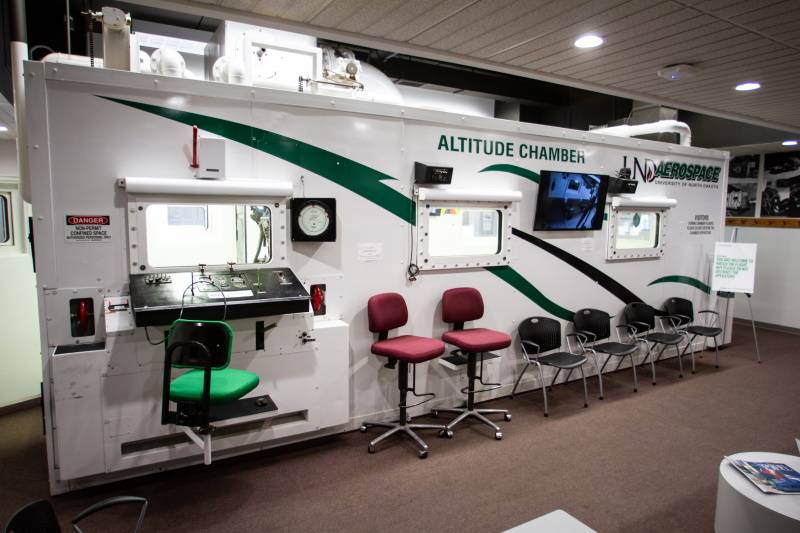 Our altitude chamber is used for both aviator training and research. Capable of altitudes in excess of 80,000 feet, it is used to teach flight crews the physiological effects of high-altitude flight in a safe training environment. Subjects presented in our Aerospace Physiology courses include:
hypoxia
hyperventilation
trapped gas disorders
evolved gas problems
oxygen equipment care and use
cabin pressurization
decompression issues
fatigue
stress
visual and spatial disorientation
Spatial Disorientation Simulator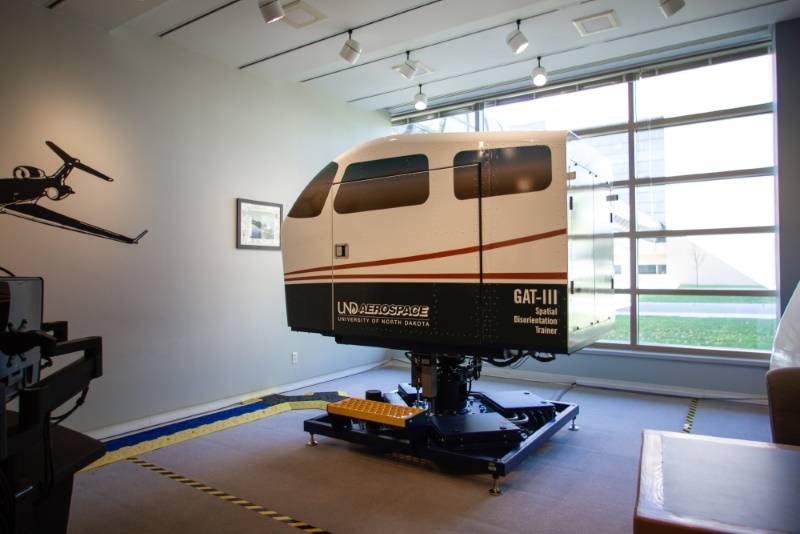 The General Aviation Trainer (GAT III) is an aircraft trainer that combines basic flight training, instrument training and Spatial Disorientation (SD) training in one platform. The GAT III features a single reciprocating engine, propeller driven flight model, and realistic, computer generated instrumentation.
The GAT III features an enclosed cockpit, realistic flight controls, and a textured high-quality out-the-window display to provide a highly-realistic training environment. The 3-axes motion system is precisely-coordinated with the visual display and the flight control inputs to provide a high-fidelity learning environment.
Meet Our Staff
Our Aerospace Physiology department is directed by Associate Professor Thomas Zeidlik, who became a commercial pilot in 1995 and has been in the medical field since 2004. Our staff also includes Mr. Steven Martin, with 30+ years of aerospace physiology and human factors experience. Our altitude chamber technicians are Eric Toutenhoofd and Alyssa Geatz, who have a combined 35 years of experience in Emergency Medicine and human-function education. In addition to physiology and altitude chamber training, our team has expertise in oxygen equipment, emergency egress/parachuting, survival, and high G-force training.